Sinuva Nasal Polyp Treatment
Many people with chronic sinus issues have suffered from inflamed nasal polyps that can worsen their condition. Even patients who have previously had ethmoid sinus surgery can have nasal polyp growth that causes nasal congestion and other symptoms. City Sinus Care is excited to offer Sinuva nasal polyp treatment, which is an innovative, minimally invasive option for those with nasal polyps who have previously had ethmoid sinus surgery.
Dr. Gregory Levitin, MD, FACS, is a highly respected, board-certified Otolaryngologist-Head and Neck Surgeon and the founder of City Sinus Care in New York City. Dr. Levitin and our staff offer the most advanced options in sinus and ENT medical care for our patients. Sinuva nasal polyp treatment is one of our minimally invasive therapies that can help resolve chronic sinus issues for our patients.
Nasal polyps are growths that are usually benign and grow in the mucus membranes and sinuses. Nasal polyps form when the sinuses are chronically inflamed, contributing to nasal congestion and blocked nasal passages. Some of the symptoms of inflamed nasal polyps include:
Nasal congestion
Snoring
Loss of sense of smell
Higher risk of sinus infections
Headache
Sinus pressure
Postnasal drip
The exact cause of nasal polyps is not known, but there are known risk factors. Those with allergies, asthma, chronic sinusitis and other conditions that cause inflammation in the nasal passages are prone to developing nasal polyps. Surgery is often recommended to treat or remove nasal polyps. However, Sinuva now offers a non-surgical, less-invasive approach to shrinking nasal polyps for sinus and nasal congestion relief.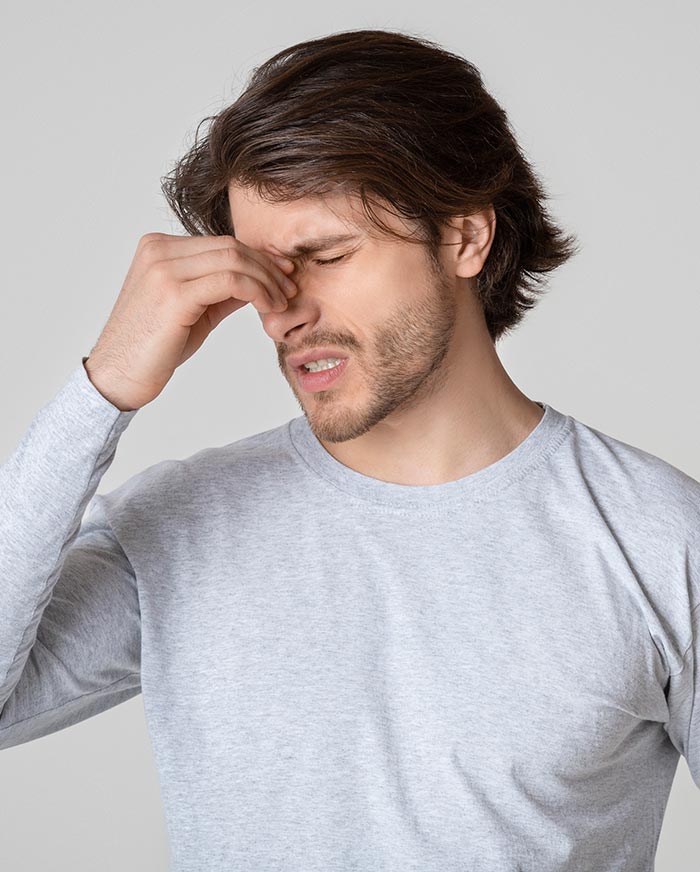 What is Sinuva?
Sinuva nasal polyp treatment is a non-surgical option for shrinking polyps in the nasal passages to relieve congestion and other symptoms. This device is designed to offer a dual approach to treating sinus and nasal congestion and polyps. Sinuva can open the sinus cavity and deliver anti-inflammatory medication to shrink nasal polyps. The medication is called mometasone furoate and is a type of corticosteroid that can help relieve inflammation in the nasal passages and sinuses.
Sinuva is a small implant that is inserted into the nasal passage and sinus cavity. The implant can be placed during an office visit – it does not require general anesthesia or downtime after insertion. Most people can return to regular activities the same day as treatment. Sinuva releases mometasone furoate and other ingredients into the mucus membranes to treat nasal polyps and sinus inflammation. The implant is made from soft, bioabsorbable polymers that soften over time. The implant can be removed after 90 days, or earlier if needed. The benefits of Sinuva include:
Relief from nasal and sinus congestion
Reduced risk of chronic sinus infections
Decreased nasal polyp size within 90 days
Improved sense of smell
Sinuva can be an alternative to additional sinus surgery for those with inflamed nasal polyps. Patients in Sinuva studies were proven to be less likely to need additional sinus surgeries compared to those who did not receive Sinuva treatment.
Are You a Good Candidate for Sinuva?
If you are over 18 years of age, have had previous ethmoid sinus surgery and now suffer from nasal congestion and loss of sense of smell due to nasal polyps, Sinuva may be right for you. However, Sinuva should not be used by those who are allergic to mometasone furoate or the other ingredients used in this implant or are sensitive to corticosteroids. Sinuva is also not recommended for those with nasal ulcers or trauma to the nasal passages.
Dr. Levitin at City Sinus Care is your source in NYC for Sinuva nasal polyp treatment. To learn more about Sinuva implants to avoid nasal sinus surgery, contact our office to schedule an exam and nasal polyp treatment consultation.