Nasal Valve Collapse Treatment
The nasal valve is the triangular entrance into the nasal passage. This narrow triangle is made from three components: septum, nasal wall and inferior turbinate. If any of these components are impacted, the nasal valve can collapse and result in a nasal obstruction. Dr. Greg Levitin and the team at City Sinus Care offer advanced, minimally invasive nasal valve collapse treatment at our facility in NYC.
Symptoms of Nasal Valve Collapse
Nasal valve collapse can be caused by injuries or damage to the nose. Plastic surgery (rhinoplasty) or previous nose surgery can result in damage to the nasal valve. Degenerative conditions, scar tissue and inflammation can also impact the nasal valve, resulting in collapse. The symptoms of nasal valve collapse include:
Difficulty or inability to intake air through the nasal passage
Snoring
Use of nose strips to open the airway
Breathing through the mouth
Fatigue from disturbed sleep
If the nasal valve has collapsed, there are treatments that can be performed to reopen the valve. At City Sinus Care, we offer non-invasive procedures for nasal valve collapse treatment that can be performed in about a half hour at our medical center.
VivAer Nasal Airway Remodeling

One option for removing nasal obstructions caused by a nasal valve collapse is VivAer® nasal airway remodeling. This procedure uses radiofrequency (RF) energy to remodel the tissue in the nasal valve, creating a wider opening for improved breathing. The procedure is painless and requires little to no downtime.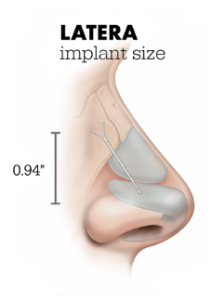 Latera Nasal Implants

When nasal valve collapse occurs due to a weakened nasal wall, adding support to the lateral nasal wall can open up the nasal valve and clear the obstruction. Latera nasal implants are a minimally invasive solution to add support to the nasal wall. The procedure can be performed in less than 15 minutes – the small implant is inserted into the nasal wall in a painless, quick outpatient treatment.
If you have a collapsed nasal valve that is impacting your health and wellness, come see us at City Sinus Care. Contact our Manhattan office to schedule a nasal valve collapse consultation with Dr. Greg Levitin.